---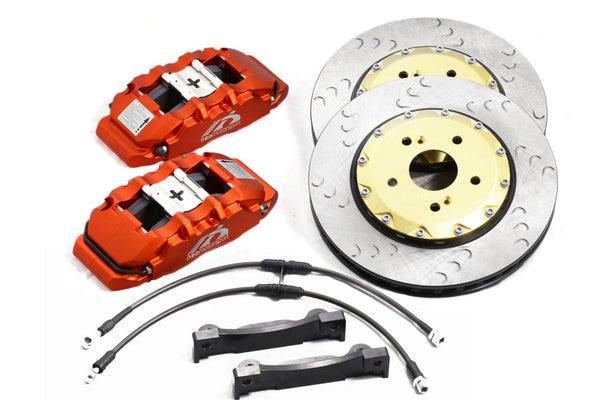 The newly re-designed F400 Series caliper, the latest caliper in the NEO Motorsport range. Designed to be an entry level caliper packed with the highest NEO Motorsport standards and quality. Just like all other NEO Motorsport calipers, the F400 Series caliper is made from forged aluminium for lightweight, strength and durability. OE calipers tend to degrade when used on the track, this is where the F400 Series is perfect for.
Product Overview
-For road and racing use
-Made from solid aluminum alloy billet
-Extra hard anodized (powder coating option available)
-Titanium pistons (optional) w/ inner multi-piston seals

Recommended For
Performance Street Car / Drift Cars /
GT-Class Race Car
Weight 2086~2167 grams  
Recommended Rotor Size: 330-345mm.
Pad Area: 5190 mm²
Disc Depth: 50 mm  
Piston Size: 38mm + 38mm (F401)
Applications
Asia
European
Domestic
How to Order 
1. Select the number of pistons you like.
2. Click on Checkout
3. In the order notes, please specify your make and model 

** Please note, due to Covid-19 situations and also the Black Friday shopping rush, there is a 14~30 working day period to fulfill the order once it has been submitted.  All our kits are made to order to ensure the highest quality of excellence. **
If you are not sure if we have an application for your car, don't hesitate and call us at 1-800-857-2065. Our representative will be able to assist with all your questions.
.
.